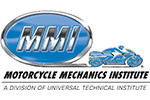 Motorcycle Mechanics Institute
Motorcycle Mechanics Institute Orlando, Florida & Phoenix, Arizona

Motorcycle Mechanics Institute has been providing Harley-Davidson dealerships with trained technicians for the past 25 years. As the primary source of entry-level technicians, MMI is the foundation of the new breed of highly skilled and educated Harley-Davidson Technicians.
HARLEY-DAVIDSON® ELECTIVES
The Harley-Davidson electives can be added to your Motorcycle core program.You'll learn to troubleshoot, repair and maintain Harley-Davidson bikes through the Late Model Elective and you'll learn about older Harley motorcycles if you add the Early Model Elective.
If you choose the Late Model Elective you will gain an understanding of the customer skills and shop management techniques that have helped make Harley-Davidson dealerships part of a motorcycle icon. So if you're looking for a career with a Harley-Davidson dealership then the 24-week Harley-Davidson Late Model Elective program is an ideal choice. The Late Model Elective program will help prepare you as an entry-level technician and is aligned with Harley-Davidson's PHD training.
MMI also offers a 6-week Early Model Elective that can be added to your Harley-Davidson Late Model Elective, which is geared toward the Harley-Davidson enthusiast. In the Early Model Elective program you'll learn how to service and repair older Harley motorcycles in a truly hands-on training curriculum. You will also learn about the history of Harley-Davidson by wrenching on classic bikes.
BENEFITS
Work with an icon of American motorcycles.
Employment preparation for dealerships.
Late Model Elective is supported by Harley-Davidson.
Opportunity to earn your Harley-Davidson PHDs.
Additional Early Model Elective for the enthusiasts.
AVAILABLE AT THESE CAMPUSES
MMI-Phoenix (Phoenix, AZ)
MMI Orlando (Orlando, FL)
ELECTIVE LENGTH
The Harley-Davidson Early Model elective is 6 weeks long.
The Harley-Davidson Late Model elective is 24 weeks long.
For more information about our graduation rates, the median debt of students who completed the program and other important information, please visit our website at www.uti.edu/disclosure.