Find Certified Harley-Davidson® Mechanics Training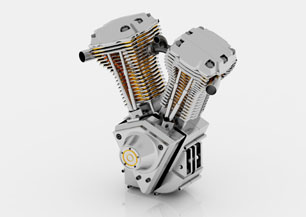 Welcome to HDMechanicSchool.com - your resource for Harley Repair Training. Find information on where to train to become a certified Harley-Davidson® mechanic. Get facts on the career itself as well as other motorcycle and small engine training courses and schools. Get rev'd up and get on track to a career you love in motorcycle engine repair! At HDMechanicSchool.com, we are here to help you get the information on the education you need to fulfill your dreams.
Whether it be training in Harley-Davidson® Early Model or Harley-Davidson® Late Model - HD Mechanic School will give you the 411 and fast-track you on the way to success in the motorcycle repair industry.
Maybe your interested in other certified motorcycle training such as Buell, Honda, Kawasaki, Yamaha or Suzuki. HD Mechanic School also provides plenty of information on how to get training in these and other areas.